Clean Laundry on Sovia Drive in Waterloo, IA
A 24-hour Laundromat in Waterloo Near Crossroads Mall
Coin laundry with pickup and delivery service in Waterloo
The Clean Laundry Store on Sovia Drive was the first Clean Laundry to ever open, back in 2015. This 2850 sq. ft. laundromat is conveniently located just north of the Crossroads Mall, right off Interstate 380. Look for it behind the Crossroads Panera and next to Planet Fitness.
Wash, Dry, Fold Pickup & Delivery Service
Let us do your laundry for you! Service available 8am–5pm on Mon, Tues, Wed, & Thurs.
$2 off Tuesdays
$2 off all washers on Tuesdays 6am-6pm, limited time only.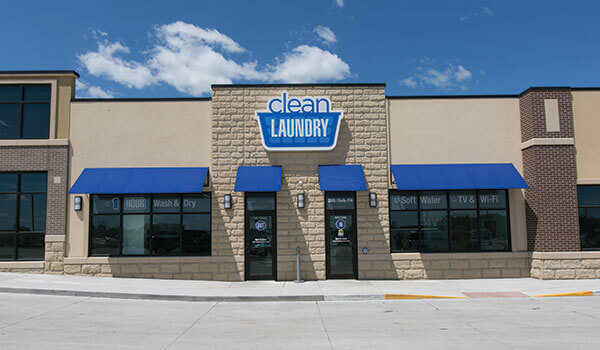 Near Crossroads, in the strip mall behind Freddy's Steakburger
Waterloo, IA 50702
Discover the Clean Laundry difference
No matter how much laundry you have, the commercial equipment at Clean Laundry on Sovia Drive can get it washed and dried faster than you ever thought possible. Bring in your jam-packed clothes hampers, king-size comforters, pet beds, rugs, and all piles of laundry today. It's About Time!

Ricky Sanchez
09:56 07 Dec 21
Very clean and machines work good

Lindsey morehead
05:04 24 Oct 21

grandpaminisoda
04:36 06 Oct 21
Very clean and organized. Only complaint is the token system. Now I have extra tokens I won't use as im only in the area every so often. Just let me use quarters.

Patrice Blount
06:39 27 Sep 21
Clean establishment just didn't get my clothes that way. Wash was pricey for my clothes not to be clean drying was cheap. Large load 1.00 to dry not bad. I will have to try elsewhere to get clean clothes.

Thomas Olofson
13:37 20 Sep 21

It's a clean laundry mat. Attendant was nice and helpfull. I haven't been to laundry mat in years. So I thought it was pricey. But was do i know. Last time I went to a laundry mat it was $1.50 t o wash. Times have changed.

gloria henderson
04:16 10 Sep 21
Very clean and reasonable

Kimberlyn B
13:00 03 Sep 21
I was there at 10pm and it was so busy you couldn't get a dryer and then when items in dryer were done no one was there to take them out, I will try going at a different time next time 😩

Julie Rushton
17:35 02 Sep 21

Stephanie Finn
15:08 15 Aug 21

Mark McDonald
20:10 07 Aug 21
Clean well stocked with laundry items and coins or tokens. Large washers and dryers

Mary Treichel
17:09 05 Aug 21

Lupita Cortez
14:57 29 Jul 21

I'AM Jameika D
20:13 25 Jul 21
Nice and clean environment

Anita Kowalsky
13:44 23 Jul 21

Max Hunter
21:53 17 Jul 21

Jennifer Ray
20:24 17 Jul 21
Easy access off 380. Prices were reasonable, the place was clean, and the attendant was friendly.

Sandra Torry
04:19 15 Jul 21
Free drying on Tuesday is AWESOME!

james seales
17:08 14 Jul 21
Very clean place to do laundry

Gilbert Patrick
20:58 11 Jul 21

david tathum
01:13 09 Jul 21

Larry Pratchett
08:19 28 Jun 21

Sharon Reed
13:22 24 Jun 21

Terry Bellinger
17:29 19 Jun 21
Very clean facility. Very friendly owner. Not to bad priced. Plenty of washers and dryers available.

David Brecunier
12:21 16 Jun 21
Nice and clean, tons of machines of various sizes, and free driers from 6am to 6pm on tuesdays!

Tom & Angie Pittman
03:46 12 Jun 21

Maïté Kalala
06:43 10 Jun 21

Clotiel Kirk
14:06 07 Jun 21
Quick and clean in less than 60 minutes ❗❗

Cheryl Dodock
18:07 02 Jun 21
Attendant was very helpful and also cleaning...good place to go.

When this place opened, it was really nice to come to, but now it is a complete mess. Trash all over the place, I found candy in one of the washing machines. It looks like there hasn't been an employee in here in days. Obviously, people are slobs, so it isn't always going to be totally clean, but this is pretty bad.

Shyanne Boland
23:16 20 May 21

Sheryl Kinney
18:43 18 May 21
I came to wash blankets. This is a nice laundromat. Comparable prices, clean, loved the free dryers on Tuesdays. I hope the staff can keep it that way. I'm really picky about doing laundry. I saw over loaded machines, both washers and dryers. People just packing clothes in as tight as they could. Washing and drying rubber backed rugs. These are what kills the laundromat business. I'm not going to lie, I worry about bugs. You aren't going to wash them out and kill them if your clothes don't move in the machines!

Kelli Putney
01:00 18 May 21
Never in all the times I've been here in the last year and a half seen it this dirty. Worker either in office or sitting around.

Bill Cosby
01:24 10 May 21

Bridget Mays
23:10 04 May 21
Very clean when I was there and I will be going back

Toreto Baldiviar
05:18 03 May 21

Ana Trotter
14:53 01 May 21
Always available, machines work well ( but worker wont wear mask ☹ ).

Luke Hayden
20:25 16 Apr 21

Bree Harper
00:19 15 Apr 21

Jana Drilling
18:56 13 Apr 21
Always clean and helpful people there

Arnold Cox
20:13 10 Apr 21

Carri Beard
19:00 10 Apr 21

Keyla Arredondo
23:33 08 Apr 21

Laura Goddard (Ladybarber Salvation)
19:57 31 Mar 21

Carter Quentin
00:02 31 Mar 21

charlotte easterwood
19:56 26 Mar 21

Robert Hall
07:01 26 Mar 21

Kimmie Clark
14:16 24 Mar 21

Steven Dilley
22:57 23 Mar 21

Brianna Watson
20:38 22 Mar 21
More Clean Laundry Laundromat Locations Near You:
Sign up for updates You'll be the first to know when we have flash sales and wash/dry promotions.